Hello! My name is Cecil and I write books. My third novel is called
BEIGE
(Candlewick May 2007).
Anyway, in it a girl named Katy has to live with her punk rock drummer dad in silverlake and she hates music. In the book, a boy named Garth gives her a mix CD (you know what that means!) of a punk primer.
Since the book is about discovering your voice and also finding your inner punk and whatever that means to you, I thought it would be cool to ask my most musically inclined and punk ass cool peeps from all walks of life to give me what their ten essential punk songs for a mix tape would be.
There are some really amazing people giving me lists.
Now we can see how varied and wonderful an essential punk list is! Look! It's different for everyone! And we can all discover (or rediscover) some great songs.
I'll be posting the lists up on this blog. And I'll start with mine.
Cecil's Essential Punk Ladies to Have on Your iPod
iMix is here
Patti Smith
- Gloria: In Excelsis Deo
X-Ray Spex
- Germ Free Adolescents
The Go-Go's
- We Got the Beat
The Slits
- Shoplifting
Lunachicks
- Binge and Purge
L7
- Pretend We're Dead
Laurie Anderson
- Walking and Falling
Blondie
- Hanging On the Telephone
Siouxsie and The Banshees
- Christine
The Pretenders
- Tattooed Love Boys
The Runaways
- Cherry Bomb
The Velvet Underground & Nico
- All Tomorrow's Parties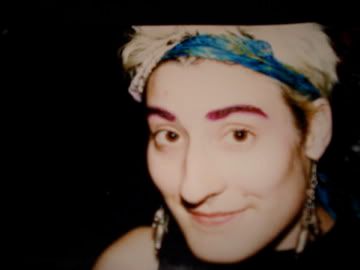 Cecil at 22